The Smiths - Hatful of Hollow
Rough Trade, 1984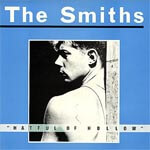 Hatful of Hollow
is the second "album" release by Mancunian minstrels The Smiths. Ostensibly a compilation of tracks recorded with state broadcaster BBC, it is in fact a rather transparent attempt to re-record their appalling debut album
The Smiths
, the obvious futility of which being comparable to trying to rescue a fallen meringue. No fewer than 6 of the tracks on that record, along with the band personnel, make an unwelcome re-appearance here. Lead singer and moaner in chief Morrissey is accompanied as usual by co-writer and guitarist Johnny Marr. Two years previously, after watching a Gilbert and Sullivan documentary, Marr was inspired to knock on Morrissey's door while entranced by some sort of deluded romantic vision that they could be the 1980's successors to one of history's most creative musical duos.
Bassman Andy Rourke and drummer Mike Joyce were recruited later, and herein lies the first grotesque deception that betrays the Smiths self-righteous image as a unit of working-class solidarity spouting egalitarian values. The constitution of the band itself relegated the unknowing Rourke and Joyce to roles as junior apprentices in the so called "group", regarded as little more than general factotums by a cynical duo oblivious to their talents. This inequality, fundamental to the Smiths creed, even extended to the pay and royalty shares for the unfortunate Rourke and Joyce.
Morrissey's supposed lyrical genius is immediately in evidence on the opening track as he skillfully rhymes "down" with "town" in
William, it was really nothing
. Moz's remorseless self-regard, total lack of compassion, and less than comprehensive understanding of universal emotions is clear to see, "I don't dream about anyone, except myself".
What difference does it make
is remarkable only for a storied performance of this song on Top of the Pops, during which Morrissey made the grand anti-establishment gesture of sporting a bunch of flowers from the rear of his trousers. Given the richness of the manure emanating from the singer on this record it is little wonder that such flora should flourish from his nether regions.
This Charming Man
provides modest Morrissey with a platform to inform us of how handsome and yes, charming he is. This track also gives a taste of the modus operandi of the Rickenbacker toting Marr, his choice of instrument apparently inspired by one Peter Buck. Seemingly incapable of delivering a clear emotional statement on the guitar, and crippled by musical indecision, Marr compensates by throwing everything into the mix, employing an inane amount of overdubbed guitar tracks all played in his nauseating hyper-picking guitar style. In fact the only thing we don't hear Marr picking on this record is his nose.
How soon is now
is perhaps one of the Smiths' better known numbers, which is curious given the lack of effort evident in its execution. While Marr later regaled interviewers with tales of his own ingenuity in creating a shimmering soundscape for the backing track, it is clear to any audiophile that the 21 year old guitarist is in fact hopelessy flummoxed by a malfunctioning amplifier. Morrissey also seems to miss the point that nightclubs exist to allow people to mingle and dance, not to "stand on your own". Perhaps however his chat-up lines are not the best, if
Handsome Devil
is anything to go by. "Let me get my hands on your mammary glands" would be unlikely to reap many rewards with the knicker-dropping town bicycle let alone any self-respecting lady of refinement. The reason for his own stilted vocabulary is then laid bare in his declaration that "there's more to life than books".
Still Ill
is exactly how this reviewer felt by track eight, particularly on hearing the bequiffed anti-hero treacherously state, "England is mine and it owes me a living". This is followed by
Heaven knows I'm miserable now
, quintessential Morrissey flummery where he advocates nothing more than insobriety and laziness, blaming his depression on the fact that he "found a job". The theme continues on
You've got everything now
where he proclaims "I've never had a job because I've never wanted one".
The Smiths are clever in actively cultivating an adoring army of alternative types, who in reality are no more than perennial dole-dependent dreamers, making an overt point of living on the fringes of a society they profess to despise, yet being the first in line to cream the benefits from that very society's overly generous welfare schemes. Such mal-contents are easily impressed by Morrissey spewing vacuous vitriol at stalwarts of the British system, like Dame Margaret Thatcher whom he wished dead, "the sorrow is that she's still alive". Although if push came to shove good old Maggie would no doubt wipe her not inconsiderable nose with this intellectual waif.
The anaemic
This night has opened my eyes
, held no resonance for this reviewer whose orbs were rapidly closing shut at this point, particularly given the umpteenth rendering of the term "ill", clearly Morrissey's favourite word. Given his fervent vegetarianism perhaps a good healthy steak would improve his constitution.
Back to the old house
is extraordinary only in its tedium, quite a feat for a three minute song, and lacking bass or drums is perhaps the only genuine Smiths track ever released.
Reel around the Fountain
is abhorrent if only for the overt and offensive tweeness of the reel reference. Given the Smiths all claim some leprechaun heritage perhaps this was a bizarre attempt to display an Oirish element in their playing. However, given the languid pace of the track, it is unlikely to be entering the Irish traditional canon any time soon. This reviewer was certainly reeling after 56 minutes listening to the demented droolings of these maladjusted miscreants. Hatful of hokum.
- number two, 3 January 2011