Thin Lizzy - Live and Dangerous
Vertigo, 1978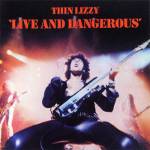 Live and Dangerous
is the first live concert offering from Irish rockers Thin Lizzy, a curious bunch of idle-witted simpletons, second in repute only to Sir Bob Geldof in the dubious list of Irish rock legends. Having found fame through the diddley-di nonsense of
Whiskey in the Jar
, a song more suited to the Darby O'Gill soundtrack than mainstream pop, the band abandoned their traditional Irish roots in the naïve hope of making it as a passable rock act. Lynott is accompanied here by fellow Dubliner Brian Downey on drums, and, somewhere under a mane of hair culled from several horse's tails, Californian axe-grinder Scott Gorham. Bad hair days were common for Thin Lizzy with his English six-string companion Brian Robertson sporting what appears to be a rather large brillo pad on his head.
Jailbreak
kicks things off here, and Lynott's questionable intelligence is immediately apparent in the lyric "tonight there's going to be a jailbreak, somewhere in the town". Presumably the local correctional facility is the most likely venue for any such event, a location Lizzy members should have been quite familiar with. Alas, for any unfortunate listeners the incarceration is only beginning.
Emerald
follows, a strange tale of conquering hordes of invaders, presumably marauding the Emerald Isle of Lynott's birth, although rather unfortunately they neglected to pilfer any of Lizzy's musical equipment.
Johnny the Fox meets Jimmy the Weed
must stand alone in the rock pantheon for its freakish subject matter, as it regales us with a tale of a fox who listens to voodoo music, intimidating surplus garden vegetation along the way. Any further analysis of that is beyond the scope of even this review, although it is safe to say that a leprechaun on LSD would have struggled to conjure such imagery. It transpires that
Dancing in the Moonlight
is not a rendition of the fantastic uplifting ditty from seminal pop band Toploader, and more the pity for it. The supposedly wild "rocker" Lynott declares he was stretching it by staying out later than 10pm. It also contains perhaps the most outstandingly ridiculous rock lyric of all time in "I've got chocolate stains on my pants", although he thankfully fails to elucidate as to whether the stains in question lie inside or outside the garment.
The blatantly blasphemous
Massacre
pops up at track 6, with Lynott imploring "if God is in heaven how can this happen here?" although the fact the great Creator allowed the formation of Thin lizzy to occur in the first place raises greater questions about His existence than any murderous bloodbath ever could. This brings us to
Still in Love with you
, the grand pop-soul ballad, at which time everybody is presumably supposed to wave their lighters in the air. In the 7mins 40s it takes Lynott to inform us of his lost love, any rock star worth his salt would have enjoyed several great love affairs, as Motley Crue could attest. This unabashed self-pity was a favourite theme of Lynott's and he would later redefine morose navel-gazing in the pathetic pining on his solo record
Old Town
. Thankfully The Corr's injected much needed life into this maudlin ditty, with their insightful and mirthful rendition becoming the definitive version.]
The Boys are back in Town
, Thin Lizzy's sole worldwide hit, tellingly finds Lynott admitting the failings of his own band in that they "haven't much to say". Perhaps more interestingly, a cursory glance at the lyrics reveals a latent homo-erotic quality to the song, particularly as it finds Lynott singing about his relief that he can "forget about her" now that the "boys are back". Indeed one could imagine this blasting out of the speakers at one of Elton John's famed house parties. A close look at the concert footage of this tune, recently released on DVD, clearly shows an incredible chemistry between a moustachioed Lynott wearing death-defying leather pants, and his follicly gifted fellow bandmates. Little wonder then that Phil and company were stroking more than the necks of their Fender guitars.
On a purely musical level, the unison lead guitar approach of Gorham and Robertson is totally undermined by the fact that they are playing identical riffs but in completely different keys, rendering any such passages a tuneless mess. In addition to this Robertson seems to have suffered the ill-fortune of having been born with a wah pedal welded to a permanently itchy right foot. The rhythm section is no better, immediately scuttled by the tone-deaf Lynott assuming bass duties himself. Downey is the sticks man, with a languid and sparse indie-jazz style, but he fools no-one in employing a double bass technique, which was obviously a tactic to disguise the fact that even Phil Collins may have winced at his timekeeping.
Live and Dangerous
has long been touted as the greatest live rock album of all time, most probably by those who rarely attend rock concerts, and rumour has swirled for years that Lizzy were infrequent visitors to live venues themselves, given that the audience on these "performances" consisted mostly of Thin Lizzy band members and producer Tony Visconti. Originally intended to be a studio album in any case, the band delivered precisely that, finally escheweing all live takes. Any arguments about integrity of this are in the main irrelevant given how moribund the end product is.
Rather bizarrely
Are you ready
appears late in the set when surely such a question should have been posed at the very outset of proceedings, although his line "are you ready to it the floor?" rang true.
Suicide
also seemed a viable proposition by the time this reviewer made it to track fourteen in this 1 hour and 16 minute ordeal.
Sha La La
is probably the level of lyrical complexity that Lynott should stick to, while
Me and the Boys
echoes the homo-erotica hinted at earlier in
The Boys are Back
, with a nod and a wink Lynott hints at the high jinks about to unfold backstage.
Lynott's identity crisis reaches a climax on the last track, proclaiming himself
The Rocker
, although having already purported to being a jailbird, a fox, a cowboy, and a warrior, given another track or two he may well have revealed himself as the real Santa Claus. Frankly, if Lynott had attached Scott Gorham's hair to his chocolate stained derriere he could have attained infinitely more credibility as a voodoo loving fox than as a rock and roll artist. Rocky horror show.
- number two, 14 February 2011