Red Hot Chili Peppers - Californication
Warner Bros., 1999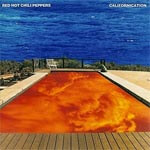 This is the Chilis' highly anticipated seventh album, which, disregarding the intervening Jane's Addiction tribute album
One Hot Minute
, can be seen as a follow-up to their mainstream breakthrough
Blood Sugar Sex Magik
. Having seemingly found some stability in the rhythm section with drummer Chad Smith surviving an unprecedented three records, the band's strong indecisiveness on guitarists hasn't faltered. This time, though, instead of blindly throwing another fresh face into the mix, two-album veteran John Frusciante returns for a second chance, perhaps signalling an end to the core band members' policy of personnel selection by attrition.
The first track,
Around The World
opens with a loud and gloriously primitive E minor note on the bass, left to resonate for a second while the listener, ear cocked and mouth agape, anticipates with delectation the imminent auditory pleasure. The bass duly returns, unpretentiously repeating the same simple sound, but cleverly building up a rhythm until it bursts into a wonderfully pounding riff, augmented four bars later by an energy bolstering guitar, all of which leads up to an endorphin actuating crescendo of drums and vocals which seems to scream "we're back" and leaves one wondering if this can get any better.
It can't. Suddenly the band stops, and Frusciante reverts into what sounds like some kind of repetitive two-note finger strengthening routine on the guitar fretboard. Flea unsuccessfully tries to compensate for this with a wavering tune, while Keidis boasts about his rather extensive "world" travels, name-dropping not only his home state of California, but states as far away as Alabama, Wisconsin, Ohio, and even almost reaching the east coast in Pennsylvania. Some semblance of a melody reappears briefly during the chorus, but is overshadowed by a bizarre Frusciante-generated backing vocal that can only be oxymoronically described as an angelic wail.
Unfortunately, this is a pattern seen throughout the album. The lead single,
Scar Tissue
, shows Frusciante again taking inspiration from some monotonous warm-up routine and one starts to get the impression that his composition has either become hopelessly lazy or perhaps he's trying to initiate a viral marketing campaign through exposure in guitar tabulature magazines. In fact almost every progression consists of a maximum of two notes, taken to an extreme in
Emitremmus
where each of those notes is no less than four excruciating seconds long.
I Like Dirt
follows this track up by restoring some liveliness, but unbelievably removing what meager tonal variety now remains - that's right, a single-note riff.
What is abundantly clear here is that the tired pairing of Keidis and Flea have lost none of their fickleness as they yet again bow to their latest recruit's opinion on how the band should sound. Keidis has become nothing more than a poet, while Flea is now just a tool used to fill in the lower frequency range. This actually might not have been such a bad thing - it worked for
Blood Sugar
- except that Frusciante has, over his eight year hiatus, almost completely abandoned his funk roots. And try as he might, he fails, most blatantly in the title track, to replicate that brief moment of non-funky inspiration that once gave us
Under The Bridge
.
Just like the Lord in the book of Job, the Chilis giveth for the opening 23 seconds of this album, but then proceed to taketh away in spades. And that makes the disappointment so much harder to bear. Calidefecation.
- number one, 25 October 2010