Rory Gallagher - Top Priority
Buddha Records, 1979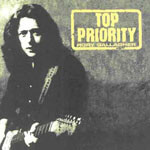 This is the eighth (yes,
eighth
!) solo album from guitar slinger Rory Gallagher, another leftover from the heady 70's days of the best forgotten British Blues Rock movement. On this 46 minute set Gallagher is accompanied by fellow Northern Irishman and trusted 4-string wizard Gerry McAvoy. The guitarist appears to have employed more drummers than Spinal Tap, and Ted McKenna temporarily wields the sticks this time out. It has to be said that much of Rory Gallagher's early career success was based on a handful of earnest but uninteresting cover versions,
As the Crow Flies
,
Bullfrog Blues
,
Out on the Western Plain
,
Could've had Religion
etc. etc.. Therefore, a quick scan of the liner notes indicating an album consisting entirely of self-penned tracks set alarm bells ringing immediately for this reviewer.
The album kicks off with the high octane
Follow Me
, on which Gallagher pounds out a series of fifth chords before launching into a plaintive chorus, presumably trying to juxtapose some punk credentials with the emotional intensity of a Hall & Oates track. Somewhere along the way he forgot to incorporate anything resembling a tune. This sets the tone for the rest of a curious album littered with pseudo-hair-rock aspirations.
Just Hit Town
finds him wailing on about the perils of flying, which is perhaps best left to Air Crash Investigation repeats, while
At the Depot
is a three minute splurge about a dole queue with a jarring romantic interlude thrown in.
The riffathon is briefly interrupted early on by
Philby
, which rather bizarrely is an eponymous ode to infamous spy Kim Philby, a man with whom Gallagher claims to feel some sort of affinity, despite an absence of any record in intelligence. This particular dirge follows the usual Gallagher pattern until it is partially redeemed by a guest guitar solo from Pete Townshend, who once tried to head-hunt Gallagher in the mid 70's to join The Who as a second guitarist. Top Priority also includes token nods to the Derryman's blues influences, the interminable Keychain among them, and perhaps he should have asked Townshend to help out on
Off the Handle
also, 5 minutes 30 seconds of dreary and sloppy second-hand blues turnarounds.
The "bonus" tracks only add to the mystery and the suffering.
Hellcat
is about a satanic feline which even Vincent Price would have struggled to appreciate.
The Watcher
is potentially interesting but spoiled by out of tune guitars and an arty but misguided vocal mix. Mercifully Gallagher left his acoustic guitars at home for this record, one small grace to be thankful for once the CD finally stops turning.
In his fantastic autobiography,
Riding Shotgun
, the unsung bass maestro Gerry McAvoy recounted that in earlier years he frequently attempted to assist Gallagher behind the scenes with his songwriting. Some online clips from the
Irish Tour '74
film of McAvoy showing a reluctant Gallagher a chord sequence bear this out. Given the paucity of memorable tracks on Top Priority perhaps the guitarist should have been more open and willing to take ideas on board from his talented bass sidekick. Any dissenters should check out McAvoy's latest release, the superb
Can't win 'em all
(label: Angel Air), particularly the title track and the rather aptly titled
Misunderstood
.
This album had started out with Rory Gallagher's vocal pleas of "Follow Me", and this reviewer duly obliged, only with hindsight I rather wish I had not listened to him. Avoid.
- number two, 4 October 2010