Faith No More - Angel Dust
Slash, 1992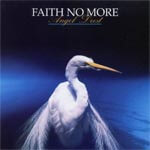 The "new" Faith No More is back, this time with a considerable weight of expectation on their shoulders due to the surprise commercial success of their last album,
The Real Thing
. Mike Patton joining the band to record that album in 1989 may have looked somewhat like a merger of a talented singer with an established musical act, but with his increasing control on all aspects of their output, it could now begin to look more like an acquisition of a group of session musicians by an established vocalist.
Angel Dust
, then, exhibits this group at a crossroads, still in the process of assimilating their new frontman, while endeavouring to maintain the essence of the name Faith No More, and avoiding the stigma of becoming yet another Patton side-project.
The album opens with a pair of tracks supposedly composed by Patton during a sleep deprivation experiment. This seems paradoxical at first with
Land of Sunshine
's repetitive guitar riff sounding more coma-inducing than slumber-preventing, but after a minute or two its constant grinding begins to debilitate the listener's brain function and it becomes evident that this material is more suited to prison-torture than lullaby. That the guitar sound is reminiscent of a washing machine stuck on drain cycle only serves to amplify the effect. The ordeal continues with
Caffeine
, where said machine has now moved on to oscillating mercilessly between spin and wash cycles, while the listener has likely moved on to the floor and begun rocking in the foetal position. Handily, this is a good place to stay for the remainder of the album.
The production on
Midlife Crisis
tells its own story, with the vocals in some parts involving three or four overlaid melodies, each one at least double-tracked. This evokes images of up to eight individual Mike Pattons repeatedly screaming at each other the chorus line, "You're perfect yes it's true / But without me you're only you", suggesting an unsurpassed self-belief coupled with a rather serious case of multiple-personality disorder. In any event, this is clearly not the worst case of middle-aged blues ever documented, despite Patton's advanced 24 years.
Although he is the band's sole lyricist, Patton uses his voice primarily as a musical instrument rather than to convey a message. This is sometimes literally the case, where grunts, gasps and screams take precedence over anything resembling human language.
Malpractice
sounds like a sing-off between the singer and a horde of zombies, while
Smaller and Smaller
sees him impersonate a variety of farm animals, some of which are surely in heat. Quite why the band thought it necessary to find a place on the album for every one of Patton's numerous babblings is a mystery, especially considering the over-abundance of atypical musical equipment already in use - from church-bells and Japanese gongs to war-sirens and cash-registers.
Further adding to the madness,
A Small Victory
sees Patton periodically succumbing to an attack of hiccups, conveniently in off-beat time with the music. Apparently, off-beat timing was above and beyond Mike Bordin's drumming capabilities, but it's puzzling that he didn't simply overdub another drum track to cover up this deficiency, rather than drawing attention to it by allowing Patton to impose himself on the rhythm section on top of everything else.
The penultimate track,
Midnight Cowboy
, is an instrumental and a look at how the band might sound without their deranged frontman - the answer is sane, but uninteresting. The final track throws an unexpected curve-ball with a cover of
The Commodores'
hit single,
Easy
, and a Lionel Richie impersonation from Patton that wouldn't be out of place on an early qualifying round of
Stars In Their Eyes
- perhaps he should have stuck to imitating livestock.
To say
Angel Dust
is experimental is an understatement, and it turns out to be the kind of experiment that results in an abhorrent cross-species freak that should be mercifully put out of its misery on first sight. Apparently, Slash records are not so humane and allowed this abomination to live, rather than return it to dust. Angel Dung.
- number one, 22 November 2010